When I'm not out running or bugging people to play soccer or Frisbee with me on the beach, I can usually be found in a beach chair under an umbrella reading. I always get excited about the prospect of reading a few good books while on vacation, and I'll "save" books to be read while on the beach. This year I got a little wild and my saved list turned into more of a wish list – meaning I saved more than I could actually read in the week and a half we are here. So far I've read two books and I'm well into my third one.
The first book I read was 'Orange is the New Black' by Piper Kerman.
I actually started this book back in the spring, but never finished it. I think most people know the general premise of the book by now, but it's written by Piper Kerman about her experience spending a year in a women's federal prison. She ends up there after a 13 year old charge for smuggling drugs catches up with her. It was intriguing to me to read about her experience, and wonder what that would be like. Now that I have finished the book I am excited to check out the Netflix series! Has anyone seen it?
The second book I read was 'Act of War' by Brad Thor.
I have read three of his other books (Full Black, Black List, and Hidden Order) and this one was as much of a thriller as the others. I couldn't put it down. Like the others I have read, it follows Scot Harvath, an ex-Navy SEAL who has become a covert counterterrorism agent working for a private government contractor. One thing leads to another in this book, chaos ensues as the multiple plots collide, and I couldn't put it down. If you're interested in this series I highly recommend starting with Full Black, although there are another 9 books that lead up to Full Black. My dad has read them all.
Once my heart stopped racing from 'Act of War' I began reading 'The Maze Runner' by James Dashner. My sister and her boyfriend had both been reading the series while here at the beach, and neither one of them could peel their eyes away from their books. My little sister said it was on the same level as 'Hunger Games,' which got me excited.
I'm only about a quarter of the way through the book and I still have no idea what is going on. If you've read the book (or the series – there are 4 books total) you're probably nodding your head and smiling. If you haven't read the book, you probably think it would be frustrating. But I promise it's not, because I'm so intrigued. Plus I have the assurance of my sister that I'll understand soon. And it looks like they're making a movie out of the first book, due out in September of this year. Looks like I've found my next young adult fiction series turned into movies.
Other books on my wish list that I probably won't get to at the beach but will read at some point:
The rest of the Maze Runner Series!
.
This one has been on my wish list for awhile. And now I really want to read it so that I can go and see the movie afterwards! I hear it's likely to make me cry, though, so I guess it's best I'll be reading this one along and not on a crowded beach.
.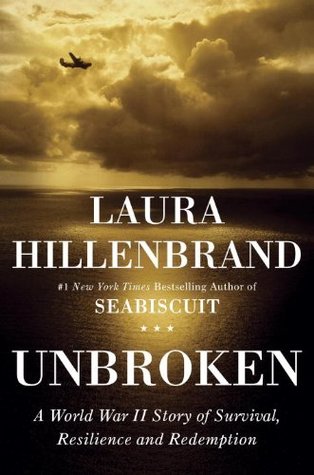 This book is the true story about Louis Zamperini, an Olympic runner who is called into service flying planes during World War II. When his plane goes down in the Pacific Ocean he is eventually captured by the Japanese and tortured in a prisoner camp. The story follows Zamperini's story of resilience, redemption, and ultimately survival. And it's another one that they're making into a movie, due out around Christmastime this year.
.
Jan says it's good, enough said. Plus this author also wrote 'What Alice Forgot' which I loved. A husband writes his wife a letter, containing his deepest darkest secret, which he intends for his wife to open after his death. But she stumbles across it while he is still alive. The repercussions will be earth-shattering.
.
This one popped up on my Kindle this past week as an advertisement and caught my eye. It's about a girl who comes across a pile of blood-stained money. Suddenly she is swept into a whirlpool of events. As she tries to trace the origins of the money, she is led into the world of dirty cops, and a notoriously brutal drug kingpin.
.
I have read several other books by Jodi Picoult and I hear this one is just as good. A young girl befriends a man who turns out to have been a Nazi SS guard. He asks her to kill him, because he feels he deserves to die. The girl refuses, but things get complicated because her grandmother is a Holocaust survivor. What do you do when evil lives next door? And would fulfilling the man's request be murder … or justice?
.
This book has been on my wish list for awhile after Amy reviewed it on her blog. It's a collection of stories about the author's life living in mountain towns on the east and west coasts – both sides of the divide. She writes about the people she meets, adventures she has skiing, hiking, and mountain biking, and about becoming a triathlete.
.
I saw a lot floating around the internet awhile ago about this book, and that's what caught my interest and got it added to my wish list. It's about a husband and wife who are about to celebrate their fifth wedding anniversary when the wife suddenly disappears. Things get crazier when all roads point towards the husband as the main suspect.
I told you I had a lot on my wish list 🙂 Too bad I can't stay at the beach long enough to read each of these!
What are you currently reading?
What type of book is your favorite? I like a fictional book that's a page turner.
What's on your wish list?